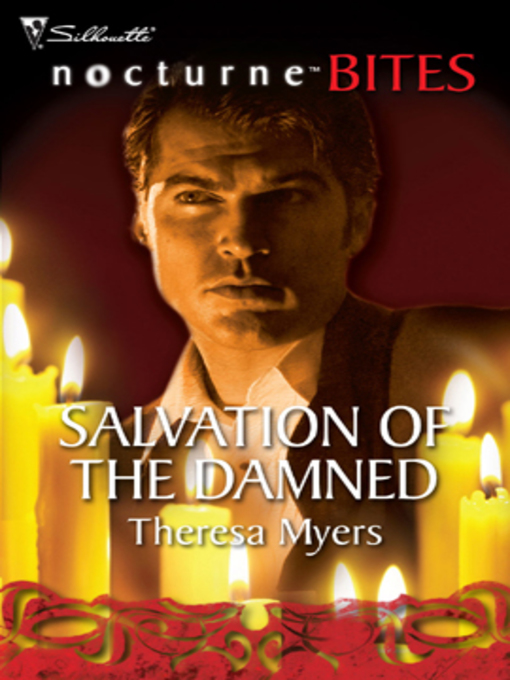 Vampire Wire
is very happy to have
Theresa Meyers
here today to talk about
Salvation of the Damned
, which was released this week. Theresa's a debut novelist, but she's a long-time writer with years of experience as a journalist and a publicist, she lives in the Pacific Northwest. She lives and breathes writing and her company,
Blue Moon Communications
, specializes in promoting fiction writers.
She answers my questions about her own writing and the challenges a writers faces in promoting her work. Perhaps when she drops by, she'll tell us how she got
Pierce Brosnan
to model for her book cover.
Theresa is also
giving away a copy
of
Salvation of the Damned
this week! To enter,
leave a comment
telling us if there's an actor or actress that you always associate with a fictional character. Simple as that: is
Lestat
more
Tom Cruise
or
Stuart Townsend
or someone else?
The contest runs through Saturday night, and the winner will be drawn at random.
-------------------------------------
MARTA:
Hi, Theresa, and congratulations on the release of your new novella! Would you tell us a little about
Salvation of the Damned
?
THERESA:
Thanks for inviting me! I always love to talk books. OK, let's be real honest with each other, I just like to talk, period. I've been told it's part of my Italian genetics. First, let me be honest. I'm a vampire virgin. That's not to say that I'm a virgin and in fact a vampire, but rather that I've never written a vampire story before and this is my first.
Salvation of the Damned
is a vampire romance novella from
Silhouette Nocturne Bites
. Every thousand years, a plague ravages the vampire population, bringing them to near extinction. In forty-eight hours, a virus will turn all vampires into their true chronological age and kill them all, unless the right woman is sacrificed. It is a ritual that vampire Raphael has made before. Every millennium, he finds the perfect woman and seduces her so thoroughly that she willing gives her own life and soul to save his kind. But only once in six thousand years has he fallen in love with his victim...
Then he sees Evaline St. Croix at a Mardi Gras costume party and feels the same raw need he felt for Isabeau. Eva feels an instant connection to Raphael, too, as if they've known each other forever. His voice and touch bring strange memories to her mind...and an explosive desire to her body. Could Eva be the reincarnation of Raphael's lost love? And if she is, has he found her again only to lose her once more?
MARTA:
You write in a variety of genres, including historical, mystery, and contemporary. What are the challenges/rewards of writing paranormal?
THERESA:
Paranormals give me the opportunity to truly indulge my imagination. Really, my characters can do anything (well, ok, within the boundaries of their own world). I've always been a fan of paranormal things. I was completely addicted to
"The X-Files"
when I was young, always read books like
Madeline L'Engle's
and the
Narnia
series, so thinking out of the box really isn't a total stretch for me. In fact, sometimes I don't think there is any box, it's more like thinking out of the swimming pool, and diving into the hot tub. Different change in temperature, and the experience is different, but essentially the same medium.
The challenges of writing in paranormal are in keeping things consistent and fresh. You don't want to do something other people have done, and yet if you draw from mythology to create your characters and your worlds you're bound to cross paths with what others are writing too. We all draw from the same well.
MARTA:
What was the inspiration for
Salvation of the Damned
?
THERESA
: The vampires in my story, came about for two reasons. First I had this incredibly vivid dream of a man and woman dancing together in a candlelit ballroom where everything disappeared around them into a white mist until it was just the two of them. It later somehow evolved during the same dream into a casket with a fanged skeleton that seemed to morph into her, almost as if invisible spiders were weaving a web that filled out to become her body, and he was waiting there beside her. Weird, I know. I'm still not sure what I ate for dinner that night. But it was so intense that I woke up and had to write it down.
Once I wrote those two scenes, I started to think about it. Then I asked one simple question. Why is it you never hear of vampires that are thousands of years old? They are always hundreds of years old. If they are immortal, why is that? The story sort of grew from there with me thinking of biological reasons that it could happen. Viruses can bring down the biggest, strongest predator, why not a vampire?
MARTA:
Most of your work is short fiction. Are you happiest in this format, or is there a full-length novel that you're itching to write?
THERESA:
Actually, I usually tend to write longer books most of the time. It's just the shorter books that are getting published at the moment. Writing shorter is actually just as difficult as writing a 400-page novel. You're pushed to create full, well-motivated characters and a full dilemma and resolution in just 5 chapters instead of 20 to 25 chapters. It can be fairly intense. When I write longer fiction I have more time to expand the plot, indulge in subplots and secondary characters that echo what's happening to my main characters. I can get intricate with the story, adding in research details to really make the character's experience authentic.
For instance, when I wrote
The Spellbound Bride,
a Scottish historical that was finalist in the
American Title II
contest, I spent two years researching all about the witch hunts and the
North Berwick Witch Trial
in Scotland right at the end of the Elizabethan period. You wouldn't believe all the weird stuff they did to extract confessions from those poor women and the high level of political intrigue that went on within the nobility.
Right now I'm working on several full length projects - another Scottish historical, two more paranormals and a YA novel. I like to multi-task.
MARTA:
You're writing fiction, as well as running
Blue Moon Communications
. How do you balance doing publicity for others with your own creative urges?
THERESA:
Good question. In my mind it's two different jobs. Lots of people work more than one job. In fact, for the longest time I tried very hard to keep my PR work and writing completely separate. I worked corporate PR and agency PR. The fiction writing was something just for me that was personal and separate from my education and day job. It wasn't until my critique partner
Cherry Adair
roped me into doing PR for her book
Hide and Seek
that I actually decided to stop fighting it and integrated the two.
I knew what the experience was from a writer's point of view. I knew what happened as a journalist and a PR professional. I merged the two, creating an agency that was only going to focus on fiction authors (because I'd already done all the consumer product PR for years and had gotten to the point where I wanted a little more challenge) and that took what really worked in consumer product PR and applied it to books. So far it's been a successful combination and one that compliments what an in-house promotions department does, rather than duplicating any efforts.
MARTA:
Okay, answer quickly without thinking.
Spike

or

Lestat

? Vampires or werewolves?

AC/DC

or

Evanescence

?

Jack Daniels

or a

wine spritze

r?

Gerard Butler

or

Brad Pitt

?

Hello, Kitty

or

Bart Simpson

?
THERESA:
Lestat (I have a thing for European history that he'd understand). Vamps (weres make me think of my dog too much and I just can't seem to go there). AC/DC
(
"You Shook Me All Night Long"
is "our" song for my husband and me. We danced to it on our first date.) Wine Spritzer (because I'm such a total lightweight when it comes to alcohol). Gerard or Brad-sheesh you're seriously gonna make me pick? Either! Both! Is there any reason I can't have both? Bart, only because he's got snark down to an art and I like my cats a little less pink and cutsy.
MARTA:
I'm one of those sad authors cluelessly trying to publicize my books. Yeah, we're all on networking sites futilely pitching to one another before we cry ourselves to sleep at night. Okay, maybe it isn't as dire as that, but can you give us any advice that we might not know already, or else we've heard it, but don't believe it?
THERESA:
There are a few things I always tell authors that I've found to be consistent truths:
1)
Not every tool is going to work for every author. Pick the tools that are right for you. What I mean is that everything is a tool, bookmarks, ads in magazines, websites, blogs, contests, speaking engagements, book signings, etc. You have to really look at yourself and figure out where are your strengths and limitations. If you can't travel much because of a job or family obligations, then going on a book tour probably isn't the best idea for you.
Hate to speak in front of people? Then don't force yourself to. Love to speak in front of people? Then give workshops on what you know. Be consistent in your messages because it takes upwards of 25 impressions of the same message to get people to act.
2)
Don't spend money on ANYTHING unless you have three good uses for it. And by good uses I mean solid things that make sense, not just because another author in your chapter did it and you want to keep up. For instance, a lot of authors ask, should I get bookmarks? I answer, what are you going to use them for? Doorstops aren't a good idea. If you've got it set up to mail them out to readers' groups, you are going to offer them as giveaways to fans who write in to help you build your newsletter list, and you have booksellers that have asked for them, then those are three good reasons. Without three good reasons, skip it.
This does not apply to websites. You automatically have three good reasons for a professional website because without an Internet presence people (and that includes media) don't believe you're real. Media go to the web first when deciding to interview someone and you need a way to reach out to readers and the web is the most cost effective way to do it.
3)
Remember when dealing with the media that they don't care you've written a book. Fiction doesn't count to them. You have to have some other hook to grab their attention. Use what you know from your day job, create a community angle with your story by volunteering or talking at schools, tap into your local-kid-makes-good angle or have it tie into a local event. Be persistent, but professional.
PR professionals often have to make 25 to 50 calls to get one interview so don't get discouraged. And I don't care what they say, EVERYTHING is on the record, so if you don't want it quoted, don't say it-even as a joke or an aside comment.
MARTA:
Where can readers find out more about your books and keep up with your news?
THERESA:
Readers can find me online at my new redesigned
website
. I blog regularly with my
American Title
sisters at
Title Wave
. T
They can find
Salvation of the Damned
(and get it at a discount!) at
Nocturne Bites
. Thanks so much for inviting me, this was a lot of fun!
------------------------------
Thanks to Theresa for telling us about her new book and for her great advice!
Read an excerpt

Salvation of the Damned
.
Remember to
leave a comment
if you'd like to enter the contest for
Salvation of the Damned
.
GRATUITOUS VIDEO OF THE DAY
We continue with the
GVD's David Boreanaz
Week
. Because if DB doesn't deserve
Right Said Fred
, no one does.