"...an engrossing read, with an action-packed story line and secondary characters that are every bit as intriguing as the heroine."

Kimb
erly Swan, Darque Reviews
"...a powerful entry in an amazing saga! 4-1/2 Stars."
How time flies! It wasn't so long ago that
Jeanne Stein
and I were exchanging emails about the release of our first novels. Jeanne is the author of the
Anna Strong
series and now she's about to celebrate the release of
Retribution
,
the fifth in her series.
Here's a description of her latest novel:
With Belinda Burke, a powerful and deadly witch to track down, the last thing Anna needs is additional trouble with Williams. Warren Williams is the ex chief of police in San Diego, and a current leader in the local supernatural community. Their relationship has never been what Anna would consider good, but it's deteriorating to a point that could be dangerous to both of their undead liv
es. Williams has a score to settle and he has no trouble destroying anyone who gets in his way, but it's Anna who will ultimately put her life on the line and quite possibly save the supernatural population from a torturous and destructive future.
Jeanne has generously offered to
give away TWO COPIES
of
Retribution
here on
Vampire Wir
e
. To enter the contest, please leave a question or comment for Jeanne, or tell us what you like to see in a series. The contest runs through next Sunday night, August 30, and winners will be chosen at random. Contest limited to U.S. and Canada only.
----------------------------------------------------
MARTA:
Welcome back, Jeanne! The last time we talked, you had just published

The Becoming

, the first novel in your

Anna Strong Chronicl
es

. Tell us a little about how the series has progressed since and your latest release,

Retribution

.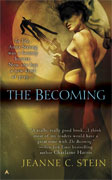 JEANNE:
Thanks for having me back—always a pleasure!
Wow, a lot has happened since
The Becoming (The Anna Strong Chronicles, Book 1)
was published.
Retribution
is the fifth book in the series so new characters have come and old ones have gone! Mostly, I'm learning more about Anna and her world.
MARTA:

Has Anna Strong evolved in the way you initially planned? Or has the character changed in any surprising ways?
JEANNE:
Anna is continually growing and changing, sometimes in ways I didn't anticipate. Like I'm sure you've found in your own writing, our characters take on lives and personalities of their own. They say and do unexpected things. It's what makes writing so much fun.
MARTA:
Can you give us any clues about what's up next for Anna? How many books are you planning for the series?
JEANNE:
As I mentioned,
Retribution
is the fifth book in the series. This is a pivotal book because it leads up to the sixth book,
Chosen,
which will be out next year.
Retribution
also features a character that I introduced in a short story,
"The Witch and the Wicked,"
published in the anthology,
Many Bloody Returns
.
Sophie is a witch with a split personality—literally, a split personality. She shares her body with a vampire.
Retribution
is darker than the preceding books. Anna faces an old foe, the black witch Belinda Burke from
The Watcher
. Burke is threatening the lives of Anna's friends—Culebra and Daniel Frey. Anna is fiercely protective of her friends and she is forced to make some tough decisions to save them.
The next book,
Chosen
, rounds out the first year of Anna's vampire existence. In it, she learns what it means to be a Chosen One. It's full of twists and surprises that (I hope) will keep readers turning those pages.
MARTA:
You've also been contributing stories to anthologies. Is it hard for you to switch gears from longer formats to shorter? Any preferences?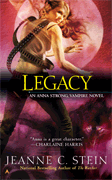 JEANNE:
It's very hard for me to write short stories. It's a challenge. But it's also an opportunity to introduce new characters and themes. I have stories in two new anthologies:
"The Ghost of Leadville"
in the
The Mammoth Book of Vampire Romance 2
(September 2009) and "
Elizabeth and Anna's Big Adventure"
in
A Girl's Guide to Guns and Monsters
(Feb 2010).
As for preference—novel length is still my favorite.
MARTA
: Paranormal stories, once a small niche, are now everywhere, especially with the success of "

Twilight

" and

"True Blood."

Do you want to make any predictions about the genre?
JEANNE:
IMHO, paranormal, especially Urban Fantasy is here to stay. The popularity of
Twilight
and
"True Blood"
proves the genre has legs. It's an expanding market with lots of possibilities. The idea that our everyday world could have supernatural or otherworldly creatures existing side by side with us offers readers an exciting escape from the reality of day-to-day existence. It's the "what if" factor we all crave. I love to read the genre as much as I love to write it. I'll bet you do, too.
MARTA:
Are
you working on anything else, fangy or non-fangy?
JEANNE
: I'm starting the seventh Anna book and developing an angel/demon idea with a co-author. I have another short story to write too, so I'm busy.
MARTA:
What's the best advice you ever got as a writer that you didn't believe when you first heard it?
JEANNE
: Not to take reviews to heart. I thought it was my duty when I first started out to read EVERY review. I soon found that you never remember the good ones and the not-so-good ones you never forget. Now, I try to write the best book I can and the only reviews I take to heart are the one's I get from readers on my website. I pay attention to them and I answer every email.
MARTA:
I really need to have my mini-Slinky around to write. Do you have any weird habits that help writing?
JEANNE
: Hmmmm… I guess my only habit (weird or otherwise) is that I need to be at my workstation to get any quality work done. I've tried writing on the road with my laptop, but it's not the same. I love my space. I'm surrounded by things that are special to me, pictures, awards, reference books. When I sit at my desk, I'm ready to work.
MARTA:
Where can your fans learn more about you and your books?
JEANNE:
My
website
and and the
blog
I share with fellow writer and pal
Mario Acevedo.
Thanks so much for having me, Marta.
MARTA: Thank you, Jeanne, and best of luck on your new book and your short stories!


Read my

January 2008 interview

with Jeanne
.
Read an

excerpt

from

Retribution
.
Don't forget to
leave a comment for Jeanne
, or to
mention what you like best about book series
to enter the
contest for two copies of

Retribution
!