"Readers who enjoy dark fantasy with fast-paced action will plow through this book, not wanting to stop."
"Energetically paced and packed with outrageously entertaining action."
I've got a great contest this week! Dutton has very kindly offered a copy of the soon-to-be-released
Dracula The Un-dead
by
Dacre Stoker
,
Bram Stoker's
great-grand-nephew, and
Ian Holt
.
Here's a
description:
Dracula The Un-Dead

begins in 1912, twenty-five years after Dracula "crumbled into dust." Van Helsing's protégé, Dr. Jack Seward, is now a disgraced morphine addict obsessed with stamping out evil across Europe. Meanwhile, an unknowing Quincey Harker, the grown son of Jonathan and Mina, leaves law school for the London stage, only to stumble upon the troubled production of "Dracula," directed and produced by Bram Stoker himself.

The play plunges Quincey into the world of his parents' terrible secrets, but before he can confront them he experiences evil in a way he had never imagined. One by one, the band of heroes that defeated Dracula a quarter-century ago is being hunted down.
TO ENTER THE CONTEST:
Just leave a comment saying what book, movie, or show you wish there was a sequel to. For example, maybe you want to know what happened with Mick and Beth after the first season of
"Moonlight."
Perhaps you're wondering what
Lestat
is doing these days. Or maybe you really, really want to know if there was a werewolf wedding so many years after the
"Werewolf Bar Mitzvah
."
The contest runs through
Wednesday night, September 30
, and a winner will be chosen at random.
The second book in my
Casa Dracula
series,
Midnight Brunch
, just got a very nice new review from
Peace Love & Pat Book Reviews
: "The biggest incentives of this book will be insane moments, witty dialogues, interesting new characters, bigger mysteries and complicated matters of the heart. Expect to laugh and symphatize with Milagro all the way. I can't wait to read the next book. "
Amazon's got

Midnight Brunch

at a special discount price of $5.60 right now
!
I've been going through my emails and found many requests for mentions here at illustrious
Vampire Wire
. So here's all the news!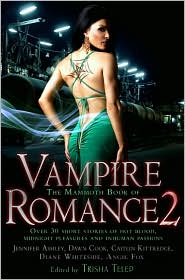 Author
Michele Hauf
announced that the
VampChix
blog has formed
Bite Club
, a book club for lovers of vampy fiction. The first book selected for discussion is
The Mammoth Book of Vampire Romance
.
Michele says:
The rules are simple:
First rule of Bite Club, tell everyone about Bite Club.
Second rule of Bite Club, don't bleed on the freakin' carpet!
What a great idea! Best of luck to the
VampChix
with their new book club! Speaking of
VampChix

, they've interviewed

Doug Knipe

, our very favorite

SciFi Guy
today. He has a great list of funny paranormal book series, including my Casa Dracula books. "They all share a lust for life (figuratively and literally), humorous and eclectic characters, and a penchant for pun-ishing and quirky book titles."
Director
Phil Messerer
will be presenting his vampire horror flick,
"Thicker Than Water"
at several indie film fests in October, including:
Terror Film Festival
,
Bram Stoker International Film Festival
, and
28 Hours Later
(28 hour horror marathon where the movie has been nominated for Best Picture). The movie's trailer is also in the lead in the
Vampire Film Festival
trailer contest.
Here's part of the synopsis:
Lara, a precocious teenage Goth, hates her wholesome sister, Helen. She envies her popularity, her looks and most of all, her mother's pride and affection. One day, after their 16th Birthday party, during which she is particularly humiliated by her sister's friends, Lara performs an intricate ritual in front of her Anne Rice alter involving a Barbie doll and calf's heart.
You can find out more about this movie at the website,
BloodJunky
.
Nicole Hathaway
wrote to share the news of her ebook,
Release
,
which just came out. Here's a description of Nicole's new book:
"Forever."
That's the response Ben Gongliewski receives, when he asks Miranda Dandridge how long she's been a vampire. He doesn't expect the word "forever" in her reply, but then again, Ben never imagined meeting vampires, let alone demons and werewolves, during his time in the Polish Resistance during World War II. Far from being horrified, Ben discovers that Miranda and her friends have very useful … talents … especially when it comes to saving children from concentration camps.
You can learn more about Nicole and her historical vamp thriller on
her blog
.
Rebeca wrote to tell me the annual
Haunted House NYC
will have the theme
Nightmare: Vampires
. It's held on the Lower East Side from the end of September 25 through November 7. The
website is fun
, and the kid actor in it is adorable. You can
watch a video
of the making of the haunted house here.
GRATUITOUS VIDEO OF THE DAY
Here's a video for fans of
Eric Northman (Alexander Skarsgard)
in
"True Blood."
I know that when you think "disco," you think Vampire Wire. Here's a discolishish vid tribute to
Mick St. John (Alex O'Laughlin)
and
Henry Fitzroy (Kyle Schmid)
from
TuesdayAngel
.