"Carrie Vaughn is on my auto-buy list. I don't even care what the plot is, if it's a

Kitty Norville

book I know I'll love it. "
Vicky London, Vampire Genre

"
Kitty Raises Hell
gripped my attention and wouldn't let go until the final page - a must read for Kitty fans or anyone that enjoys richly rendered urban fantasy and superlative characters."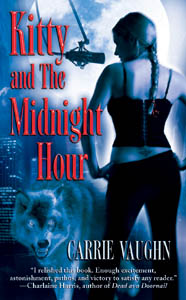 CONTEST NEWS:
I promised you an amazing contest and here it is!
Hachette/Grand Central
Books is generously contributing a
complete set of the seven shifter novels
in
Carrie Vaughn's Kitty Norville
series, including her upcoming release,
Kitty's House of Horrors
. They're also offering another
five copies
of the newest book. So six winners total!
Here's the book's description: "REALITY BITES Talk radio host and werewolf Kitty Norville has agreed to appear on TV's first all-supernatural reality show. She's expecting cheesy competitions and manufactured drama starring shapeshifters, vampires, and psychics. But what begins as a publicity stunt will turn into a fight for her life. The cast members, including Kitty, arrive at the remote mountain lodge where the show is set. As soon as filming starts, violence erupts and Kitty suspects that the show is a cover for a nefarious plot."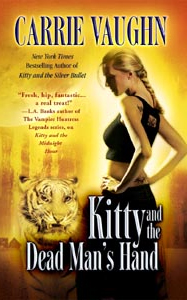 Visit Carrie Vaughn's website
.
Read an

excerpt

from

Kitty's House of Horrors
.
To enter
the contest:
Kitty Norville's a werewolf with a job as a DJ. Just
leave a comment
telling me what supernatural character you'd like to see in what job. Would you like elves to take care of your dry cleaning? Do you think zombies would be good librarians? The contest runs through
January 21
and winners will be picked in a random draw.
-----------------------------
R

eaganStar McBeigh

interviews me about my

Casa Dracula

novels in her

Author Spotlight

feature at

Star Shadow Creative
. You can win one of my books, too. (I say the first book, but if you've already got that, I can offer one of the others.) "You have to do write because you love to write and not because you think it pays well, or you think you'll get attention, or you think you'll get a movie deal. That only happens if you manage to land a plane in the Hudson River."
Nicole Hadaway

reviews

Happy Hour at Casa Dracula

at her

Vampire Blogspot

.
"... delightfully clever and fun -- something I've been missing ever since
Bridget Jones's Diary
all those years ago." Thanks, Nicole!
My favorite line on the
"Supernatural"
rerun last night came from one of the Superfans to
Sam
Winchester
: "Our passion was like a monkey on the sun -- too hot to live!"



Chris

at

Stumbling Over Chaos

has an impressive list of news and links.
FYI, Chris is really the expert on all vampire and werewolf tunes and I'm going to try to post one of her playlists here as download soon.
Doug Knipe, SciFi Guy

, has some awesome new covers to show us
.
"Daybreakers"
gets released today and the reviews are already, well, ambivalent.
The

San Francisco Chronicle

says,
"Some movies play better in a small screening room full of Fellini-loving critics, and others are best enjoyed in a packed house of inebriated yahoos. 'Daybreakers' is in the second category."
Here's the movie trailer. Personally, I have a policy of avoiding any movie with
Ethan Hawke
in it, but you may feel differently.
GRATUITOUS VIDEOS OF THE DAY
Here's one for
"The Vampire Diaries"
fans with the new pretty fanged boy,
Damon Salvatore (Ian Somerhalder)
.
And for the grown-ups...
This song made me lose at least half the dozen or so brain cells rattling around in my skull. Listen at your own peril.