I was very happy today to have
Vampire Wire
win a
Beautiful Blogger
award from
Mountie
, aka
Jennifer Rayment
, of

Rayment's Readings Rants and Ramblings
. Thanks, Jennifer! And, nope, I can't pick out 15 new blogs to name, because that would take forever, but I will continue to post
Blogs to Watch
here at
Vampire Wire
, including yours!
Readers, Jennifer is a library tech and gives her librarian and Canadian perspective on things at her blog. You know what I mean: books and hockey. I'm glad to see that two
Dr. Seuss
books are on
her favorites list
.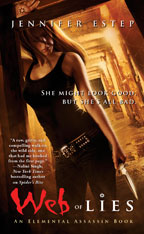 Scooper Speaks

reviews Jennifer Estep's

Spiders Bite
and says, "I love books with a quick pace, interesting people and endings that don't feel forced which makes
Spider's Bite
a winner with me, if you couldn't already tell." Good news - Jennifer is going to come back to
Vampire Wire
soon in a guest blog and contest for her second
Elemental Assassin
novel,
Web of Lies
.
So a
Vampire Wire
reader chided me for criticizing
Muse
just because I have Issues with
Stephanie Meyer's books
. She mentioned that I don't usually criticize other authors, and she was disappointed in me. Yes, I've made it a practice not to criticize other writers, because 1) being an author is difficult enough as it is; 2) I don't expect others to share my taste in books; and, 3) one of the purposes of my blog is to encourage reading. However, I reserve the right to snark at things that really rankle me in books by wildly successful authors, since my comments won't interfere with their careers one bit.
My Issues with Meyer is what I consider her very twisted portrayal of love and sex and childbirth. This comes from one seriously repressed mind and that repression is probably what makes her books so compelling. It's that fervid pubescent fantasy of passionate love.
Well, I never liked
Wuthering Heights
for the same reason. (Ha, when I just looked for a
graphic of this gothic novel
, I saw new book covers touting that it's Edward and Bella's favorite book. Seriously, what guy has ever liked
Wuthering Heights
?)
The reader who contacted me was absolutely right in that I should not dismiss a band because I assume its most famous fan must have bad taste in music. And especially when I have Muse songs on my playlist. (I just buy music and play it in the background while I work. I've been oblivious for years now.)
I'm making amends by having Muse-themed
Gratuitous Videos of the Day
. I did take a pass on videos with songs that were too bombastic and whiny.