"The Darkly Luminous Fight for Persephone Parker is made of all kinds of awesome and is just as exciting and romantic as the first book. Not to be missed."
"Leanna Renee Hieber's writing voice shines brightly. I love it...a lush love story and an enthralling tale about good vs. evil."
I'm delighted to have
Leanna Renee Hieber
here to guestblog about
The Darkly Luminous Fight for Persephone Parker
, her second
Darkly Beautiful
novel, and to share an excerpt. She's also offering a copy of either of her novels in a contest, so read to the end for information. Welcome, Leanna Renee!
******************************************
The final tour stop! I am so thrilled to be back here at
Vampire Wire
again, talking my favorite subject: Ghosts.
About The Darkly Luminous Fight for Persephone Parker
"Death-pale Percy Parker was a beacon for Fate. True love had found her, in the tempestuous form of Professor Alexi Rychman. But her mythic destiny was not complete. Foretold by ghosts with which she alone could converse; a war was coming. Victorian London would be overrun by a spectral host. Yet, within mighty Athens Academy, alongside The Guard who shielded mortals from the agents of the Underworld, she counted herself among friends. Wreathed in hallowed fire, they would stand together, no matter what dreams or nightmares—may come."
I've been busy telling ghost stories here on this tour to celebrate the freshly released sequel in the
Strangely Beautiful
series of Gothic Victorian Fantasy novels;
The Darkly Luminous Fight for Persephone Parker.
And we've come to the part of the tour where I share some of my own ghosts that I've made up along the way. All the London ghosts within the book – save for my ghostly residents of the fictional Athens Academy and the grim Whisper-world- are taken from real, documented London haunts. But here at
Vampire Wire
I want so show you a glimpse inside the ghostly Whisper-world I've created – and the unpleasant force you find there…
From The Darkly Luminous Fight for Persephone Parker
Chapter Two:
The Whisper-world was in a state of unprecedented chaos. Not that Darkness didn't like a certain amount; he thrived in it, enjoyed creating it. But everything has a scale, and every scale must have a fulcrum. Darkness fancied chaos of his own making, carefully orchestrated and meticulously controlled, with crafted conflicts, builds and climaxes, a well-made play that he, as director, could change at will. There was an art to chaos. Not this. This was not his, and this was not art.
The battle cries of his sworn enemies echoed down the endless halls, they having escaped their prison tower. He would, of course, round them all up again. But it was surely
her
fault.
He glided through the careening forms of once-human energy, spirits too agitated to obey him or offer appropriate deference. His shadow reached out as he passed, black phantom limbs that lengthened to shove spirits out of his way while his body remained gracefully still and erect, tossing spirits toward the river to drown, smashing their fragile heads against stone. His jaw ground with pleasure as he heard each satisfying crunch of bone and gorgeous keening that was the last of a humanity draining away, a pathetic cry of pain and dust, its owner never to plunge from these purgatorial shadows deeper into hell, or even to cross into the mysterious Beyond.
He glided toward a rectangular slate door that hissed, molten liquid bubbling around its edges. The haste and force with which the portal had been closed was evidenced by a few finger bones caught in the corners. Ash was everywhere. It filled what served as Darkness's nostrils as he moved to touch the door still rumbling with residual tremors.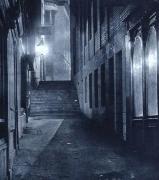 The Groundskeeper appeared, cursing the mess everyone was making of his riverbank, his gravestone gardens, his fountains of mist and trellises of bones. At the mouth of the corridor, he paused, staring into the inscrutable shadows that rose tall and smothering: the lord of the land, himself. The Groundskeeper bowed and scraped, his long coat brushing the wet ground. "Ah, hello, Master," he sputtered. "The crash sent me runnin'. Something dreadful's gone…" He stopped and bent down to examine a heap before him, some of which became discernable as body parts made of ash, still hissing with vanquished heat. He cried out, voice cracking, and raked hands through his shock of calico hair. "Oh, no! My sweetie-snaky-lassy, my Gorgon-girl. What's this? What've you gone and done?" His voice shifted accents as he spoke.
Darkness stepped back, repulsed. This pile of ash was what remained of the Gorgon that had been his spy, his emissary and best soldier. And where was the dog? If the dog were in pieces, this place had not yet seen his anger.
"I'll put you together again, my lovely," the Groundskeeper crowed. "You'll be as good as new, just let me just bottle you up! Indeed, Master?"
"Indeed," Darkness replied. "But you'll have to commence another Undoing. The seals must be open. Pour the restless onto the earth until they drag her back!"
"But, Master." The Groundskeeper trembled. "The pins between worlds are sealed fast again." He held up fingers blackened with blood.
"Undo. Them. Again," Darkness growled. "As often as it takes."
"But Master, my lovely needs me! The longer she's in pieces, the less of her I can—"
Darkness's shadow arms pounced, twisting the Groundskeeper's wrist and binding with his royal crimson cloak the creature congealed from a hundred spirits who'd once served human masters. Clutching the bloody and sore patches of his servant's hands with one preternatural grip, he held a razorlike nail to his throat with the other. The Groundskeeper squealed like an animal as the nail cut deep, and the sound was caught up in the vast stone chambers and amplified, a warning that the Master was not in a mood to be trifled with.
"Why do you punish those loyal to you?" the Groundskeeper gasped, pleading. "Because I can't get my hands on who dearly deserves it," Darkness growled. He threw his servant to the floor and kicked his pathetic form for good measure. "Put my best soldier back together, then. Undo. The. Seals!"
"Yes, Master, of course," the Groundskeeper sniveled, crawling off to procure supplies. As he did, he began an awkward singsong rhyme: "Lucy-Ducy wore a nice dress, Lucy-Ducy made a great mess…" ---
(End of Excerpt)
Leave a comment to win one signed copy
of either
Strangely Beautiful #1
;
The Strangely Beautiful Tale of Miss Percy Parker
or
The Darkly Luminous Fight for Persephone Parker
(
Strangely Beautiful #2
). Specify in the comment which one you're entering to win! The contest runs through
May 10
, and a winner will be selected at random.
The
Strangely Beautiful
saga will continue again with
"A Christmas Carroll" (Strangely Beautiful #2.5)
novella in Dorchester's
A Midwinter Fantasy
anthology this October!
Please join me via any of the sites below for ongoing updates, contests and more! And thanks to Marta's announcement, you heard that
The Strangely Beautiful Tale of Miss Percy Parker
is being turned into a musical! Follow me and track the progress; it promises to be interesting!
"Strangely Beautiful" Blessings!
Leanna Renee Hieber
********************************************
Learn more about Leanna Renee by reading
my Q&A with her
, and by visiting her sites:
Watch the book trailer for
The Darkly Luminous Fight for Persephone Parker.
GRATUITOUS VIDEOS OF THE DAY
I'll look for
GVD
s that reflect the Victorian theme of Leanna Renee's books.