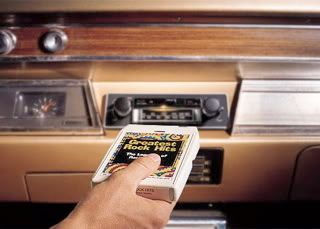 Like most authors, I dreamed of having my novels everywhere, including in audiobook form. However, the creation and distribution of audiobooks have been expensive since the days when cavemen had to carve every 8-track using rocks, pointy sticks, and tar. And the sound quality was awful! One could barely distinguish an "Uerg hit dino with big rock!" from "Blig sit down on hot lava!"
Audiobooks evolved onto cassettes, and one short book might take up six cassettes in a cardboard case. Hiring a narrator and producing the cassettes were time-consuming and expensive.
So only the most popular books ever made it onto cassette. Each case took up lots of shelf space in a bookstore and the price was so high that most people couldn't afford book cassettes. The cassettes themselves were problematic. People were reluctant to buy something that was destroyed when you spilled a Long Island Iced Tea on it while dancing the Macarena.
Time passed (please imagine calendar pages flying by) and audiobooks moved onto CDs. The same cost issues of production and distribution applied. The audiobooks and packaging took up lots of valuable shelfspace so bookstores only wanted extremely popular books.
But then technology did a tectonic shift to digital. Books could be recorded as digital data and downloaded to an MP3 player or a laptop. There was no physical book to produce, distribute, stock and store.
Most authors sign away their audio rights in a publishing contract, and
nothing ever happens
, because publishers are still working on the old model with cavemen slowly carving out physical recordings. All those possible audio books
never ever get made
and the author can't do a damn thing about it because she no longer owns the rights.
It's maddening. It's infuriating. It's needless.
The Husband admires my tenacity. Actually, what he says is "You're like a dog with a bone" and "You're a walking nightmare" and "You're like rust -- you never stop." Same thing! Anyway, I kept gnawing at the gate, wanting my audio rights returned for my books, badgering my first agent, badgering my editors, etc. And I got a new agent -- and she got my audio rights returned from my publisher!
Okay, so now I had the rights. How could I make audiobooks? I checked various producers and I couldn't afford any of those who seemed skilled. There was still the question of production and distribution to booksellers. I tried recording myself -- it's
much
,
much
harder than you think. Seriously, do not try character voices at home or without professional supervision! Do not use while sleeping or in the shower!
I always tell new authors that they should subscribe to the f
ree daily newsletter from Publishers Lunch
. So one day, I read an announcement that
Audible Audio Books
has partnered with Amazon to create
ACX
, (audiobook creation exchange) a program that will allow authors to partner with narrators and produce digital audiobooks. The audiobooks will be distributed on
Audible
,
Amazon
, and
iTunes
.
Throughout the coming weeks, I'll be posting about my experience making audiobooks. I'm encouraging other authors: If your publisher isn't interested in making an audiobook for you, take back control of your creative work! Request that your rights be reverted. Keep requesting!
Because you can make your own audiobooks now and I'll be telling you how.
GRATUITOUS VIDEOS OF THE DAY
I haven't had a kissing theme in a while, but it's spring and lurve is in the air. Enjoy!