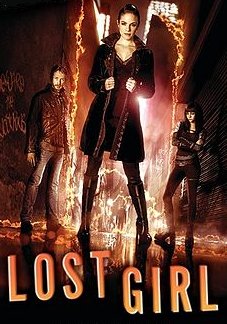 First of all, how much did I love the fae travel agency in last night's
Lost Girl
? The correct answer is: a lot.
Pragna Desai
was hilarious as Peggy, the chirpy travel agent who could "fold the earth" to bring a destination to a traveler. "Take a number!"
We interrupt this discussion of quirky paranormal series to tell you that I'm a guest at
Bewitched Bookworms
, where
Dani
reviews my book and then we discuss her issues with it -- and she has issues with it! Dani and I both like each other's blogs but hers is way prettier, I say, grinding my teeth with envy.
Okay, back to quirky paranormal series. The peppy music in the background of the fae travel agency scene reminded me of other quirky paranormal and fantasy series that I've enjoyed.
Dead Like Me
only ran for two seasons, but it packed a lot of stories into those years, and it's well worth watching, especially if you appreciate dark humor.
SUMMARY: 18-year-old George Lass (Ellen Muth) dies when a toilet from the MIR space station falls from the sky and hits her. However, soon she discovers that afterlife really does exist... she becomes a reaper - she helps in catching the souls of people moments before they're destined to die. Then she meets a group of reapers who collect people's souls. The main reaper is Rube (Mandy Patinkin), who is always playing smart, Roxy (Jasmine Guy), a reaper with an attitude, Mason (Callum Blue), a confused and funny reaper and Daisy (Laura Harris), a beautiful reaper full of mysteries.
The show is clever, funny, and unexpectedly poignant as it follows a sullen teenage reaper who misses her family and learns the ins-and-outs of existing half-way between life and death.
Wonderfalls
ran so briefly that I don't know if it's worth mentioning, but it also had that clash of chirpy and dark. The DVD includes several episodes that never made it to broadcast.
AMAZON REVIEW: Wonderfalls is probably the most hilarious show you've never seen. An hour-long "dramedy" about a young woman who hears the voices of inanimate objects--which instruct her to help out total strangers--the show aired on Fox in early 2004 to critical acclaim and dismal ratings...

You may be wondering: is it worth it to check out a show that was axed so quickly? The answer is an unqualified yes, as Wonderfalls is quirky without being precious, sardonic without being bitter, and smart without being a show-off about it. Jaye (Caroline Dhavernas) is a graduate of Brown University who's opted not to put her education to work, and instead lives in a trailer and works at a tourist shop in Niagara Falls, to the consternation of her affluent, successful family. All seems to be going well for this self-proclaimed slacker, until one day a small toy lion speaks to her in enigmatic epigrams, commanding her to help people. Loath to deal in any compassionate way with the rest of humanity, Jaye warily obeys, if only to make the voices stop. Soon, though, she finds herself to be an unwilling humanitarian and accidental hero when more inanimate objects start talking to her, and more people turn out to need her help.
I thought
Reaper
was a lot of fun, not in a small part to the smarmy, delightful portrayal of the devil by
Ray Wise
. The plot is fairly simple: on his 21st birthday, a college-dropout who works at a big-box home improvement store learns that his parents had sold his soul to the devil. He is now bound to act as Satan's bounty hunter, capturing and returning escaped souls to hell. He's also got to keep his day job. The fun in this series is in the inventive ways he and his party-hardy pals concoct traps using supplies from their store. It's
MacGyver
gone gonzo.
GRATUITOUS VIDEOS OF THE DAY
Let's see if I can find anything from these series. The reapers in
Dead Like Me
use a touch to draw out souls a moment before a body dies and pass along messages with post-its.
I like
this video
to
Reaper
, but embedding is disabled, so here's a tribute to another quirky cancelled paranormal series,
The Dresden Files
.