Today's such a jumble -- the aftermath of Sandy, Halloween, the Giants' Parade in San Francisco, that I'm just going to post contests and stuff.
Dani Binks
at
Alpha Reader
is having an
international contest
for
Gini Koch's
Alien vs. Alien
. Dani had previously
reviewed
Alien vs. Alien
and gave it 5/5 stars!
'Alien vs. Alien' is another resounding triumph for Gini Koch and her crazily wonderful 'Katherine "Kitty" Katt' space opera series. It has everything you want from summer blockbuster reading; an impending alien invasion, lovers torn apart, the fate of the world in a mother's hands and a Washington sex scandal. Terrific!
Yes, October 31 is summer for Dani, who's in Australia.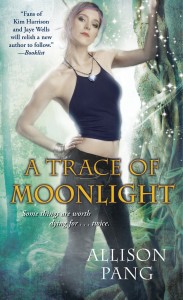 Steph
at
Fangs Wands & Fairy Dust
has a Q&A with
Allison Pang
and a
giveaway
of her new urban fantasy,
A Trace of Moonlight
.
Drinking from the waters of lethe and offering herself up as Faerie's sacrificial Tithe …these just might be the least of Abby Sinclair's problems. Abby's pact with a demon—whether or not she remembers making it—is binding, so she'd better count herself lucky that (in the words of a daemon who knows better) there's nearly always a loophole.

But her friends' reckless attempts to free her, well intentioned though they may be, set off a disastrous chain of events. In no time at all, Abby turns her incubus lover mortal and gets herself killed, cursed, and married to an elven prince whose mother wants her dead. She might have even been able to recover from all that had she not lost the Key to the CrossRoads to her mortal enemy, who promptly uses his restored power to wreak havoc on the OtherWorld and put its very existence in jeopardy.
I've been eying this book for some time, and Steph says, " I loved this book and the series as a whole. Abby is a great heroine, with enough rough spots to make her accessible, enough problems to make her sympathetic, enough empathy to make her care and enough courage to do what needs to be done." You can learn more about Allison's series and read an excerpt of
A Trace of Moonlight
at
her website
.
Fab
Michelle Hauf
and the crew at
VampChix & Bite Club
are
giving away a mess o' books
today as part of their Halloween celebration:
MIDNIGHT NEVER COMES by Marie Brennan, STAR CARRIER by Ian Douglas, SACRIFICE THE WICKED by Karina Cooper, THE NIGHT ETERNAL by Guillermo Del Toro; Chuck Hogan, DEADLY TREATS (antho), DELIVERANCE: MORTAL PATH by Dakota Banks, VAMPIRE EMPIRE: THE KINGMAKERS by Clay & Susan Griffith, and a bat t-shirt from Chop Shop!
You can read more about
Dakota Banks's
Deliverance
and her
Mortal Path
series, including excerpts, at her
website
.
GRATUITOUS VIDEOS OF THE DAY
The theme is Halloween!
Really, if Duran Duran doesn't say "Halloween" I don't know what does.