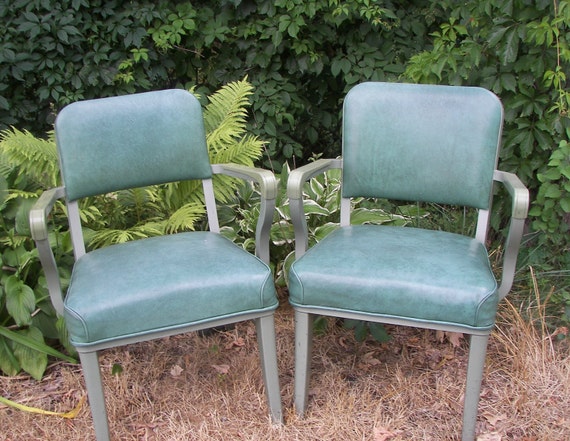 I don't talk about it much here -- at least I think I don't -- but racial and ethnic issues are part of my everyday life, like being female, being a writer, and being a wife, mom, and whatnot. I think about and discuss these issues constantly, in between obsessing about earthquakes, surfing
Etsy
for vintage office supplies in teal (favorite color), admiring my dog Betty von Snoggles' amusing antics, and figuring out what I'll be cooking for dinner (tonight pasta al pesto and herb salad with a nice crusty bread). Which is to say, my ethnicity is intrinsic to my identity, but it is not the totality of my identity.
One of my goals as a writer to nudge people to think a little differently about who and what Latinos are. If you read my books or my blogs, you might come to realize, "Latinos like vintage Steelcase furniture in teal," and you'd be right -- at least about some of us. (Aren't the chairs above fantastic!) Or, "They can be pretty funny." Or, "They are obsessed with British television shows." Or "They write vampire novels." Et cetera.
This week writer and reviewer, and
J.M. Blackman
has me as a guest on her "Minority Report" feature discussing diversity in speculative fiction. Each day I answer a different question and she responds. Please come by and join in!
CONTEST NEWS
Congrats to
PrincessAllie
who won the contest for my
Dark Companion
audiobook!
I'm extending the
contest for Roger Ma's The Vampire Combat Manual
for another week, until
October 7
, because I've been a little off the radar lately.
My contest for the sexy dangerous
666 Park Avenue by Gabrielle Pierce
runs through October 7, too.
GRATUITOUS VIDEOS OF THE DAY
I've got a
Florence and the Machine
song stuck in my head and since I'd mentioned my fondness for British shows...One of the things I love about British shows -- besides the brilliant acting, directing, and writing -- is that they have diverse casts as something normal, instead of just casting a minority woman as a judge. (Honestly, if you watch American shows, you'll assume that 90% of all judges in this country are cranky minority women.)